One of the best mountain biking tours we did this year was in the Ciucaş Mountains. We tried cycling there about ten years ago, at the beginning of our mountain biking experiences, but we ended up disappointed: too much push/carry bike for a little bit of pedaling. More recently, a friend of ours tried his luck up in the Ciucaş mountains and he was equally unhappy with the results.
But still… with Google Earth in one hand and and a printed map in the other I drew a trail around the Ciucaş peak, around Zăganu peak, reaching the village/mountain resort of Cheia only through mountain trails and paths. The elevation profile in Google Earth was looking good, so I exported the track to Garmin and I called up Mihai de Mediaş to come with me for a 'recky'. At the last minute we were joined by Andrei Cârciag, member of Pro Cycling Team – as a fresh university student in Braşov he was eager to taste the trails available in the area. So, how was it?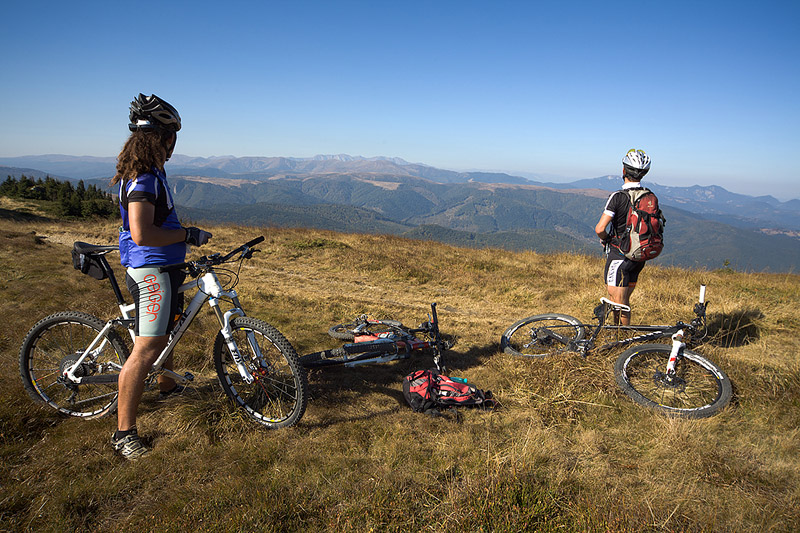 It was simply brilliant. Riding along a great, endless single trails, shouting and yelling with joy, then riding some more. On more single trails.
We parked the car up in Bratocea Pass, as we were coming from Braşov. The uphill part to the TV relay below the Bratocea Rocks is a good warm up on a dirt road before the 20 minutes intense push bike that gets you up on the Bratocea ridge. This is where the fun really starts: technical trail till Şaua Tigăilor, some rough descents around Ciucaş peak but nicely flowing all the way to Chiruşca Pass and Poiana Valea Stânei. Mihai de Mediaş was still taming his new bike, so he was grumbling a little bit – but Andrei was flying, with me on his tail, trying to keep up with him.
We ended a long downhill section in Boncuţa Pass, and started a steep ascent towards Tabla Buţii that was shortly cut with a 90 degrees turn on a forest path, down to Poiana Valea Stânei. From here the trail leads across Căzăturii Ridge and Buzăianu Ridge down to Cheia. We enjoyed the riding – flying downhill or pressing uphill – but also the pauses. We took our time resting, enjoying the sun and the pleasant temperatures of a mild autumn. We hardly met any humans on our path – probably because it was on a Wednesday – but we really felt like the mountain was ours. We'll defnitely be back to continue exploring the area, especially the part from Cheia up to Bratocea Pass, in order to have a nice round trip in the Ciucaş Mountains. To be continued.
Here is a 17 minutes video edit from our tour – kind of long, I know, but I couldn't help it. Enjoy it: