Tag:
sessions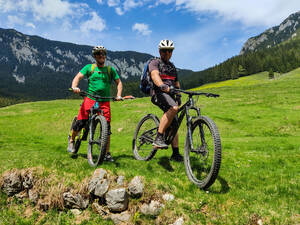 Guiding-only tours: a perfectly valid option, especially during unsettled times.
UP. DOWN. REPEAT
guided mtb tours in Transylvania – Romania
manifest
We are not rushing to jump on the electric mtb bandwagon.
shiny, happy mountain bikers
why mtb in Romania
More than mountain biking: proper biking in the mountains.

Looking for a quiet mountain biking destination, where the hordes of mtb riders haven't arrived yet? Search no more, Romania is the place to go.