This is a bike review that is not a bike review. It is a bike review because it's about a bike that I've been riding almost daily for the last six months: April 2019 to November 2019. You can say we got to be quite intimate. It's not a bike review, because I am not a bike reviewer, and my experience in riding a vast array of brands, models, takes, etc, is, to put it mildly, rather limited.
In other words, this is not about how the COTIC FlareMax 29er compares to other full-suspension rigs. It's a shortened account of my summer with the beast, and I am writing this hoping that my experiences can help others who are pondering on buying a FlareMax.
This being said, on with the show. And allow me a short introduction, to put this whole bike review into the right perspective.
My "getting-into" mountain biking happened more from the mountain side, rather than from the biking side. I was a mountaineer and skier long before I became a mountain biker. Like so many of us I was riding bikes since childhood, but mainly as a means of transportation. Pedalling was always important, as it was the thing required to get you from point A to point B. No BMX, no street or dirt sessions. My bikes were always fitting the "cross-country" category. Hard-tails, with an emphasis on weight rather than endurance. Clip-less pedals from rather early stages, seat up, narrow tyres, narrow handlebars with banana style bar ends, etc. Whatever you needed to cover long distances on off-road terrain, as mountain biking for was me, and still is in many ways, just a faster way of doing mountain hikes.
Gradually, I moved from a 50km routine ride with about 80% of the distance on forestry roads to an intense 25km ride where the uphill was done on forestry roads, if trails weren't available, and the descents only on single trails. The more technical the better, without getting into proper downhill territory.
Far from being a tech addict, and not having the budgets required to play the game, my upgrades were rather conservatory, and rather spaced apart. But I did get to wider handlebars, beefier tyres, and seat dropper before getting my first – and only, so far – full suspension bike. Which is a steel stud called COTIC FlareMax 29er with 120mm suspension travel.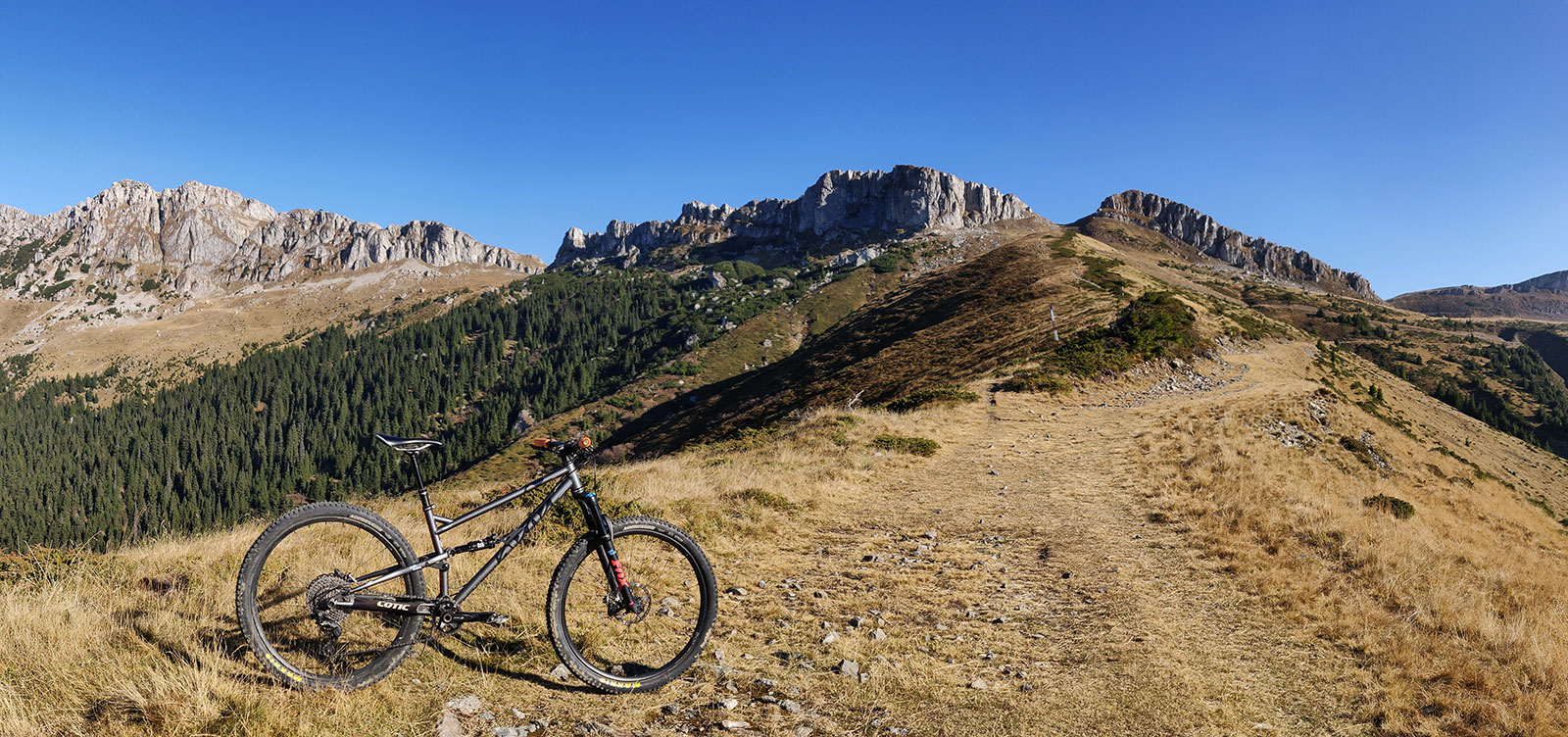 Why steel? Pretty much by accident. I was eyeing the obvious choices from the likes of Canyon or YT, online retailers that give you good value for money, but they were all out of stock for the models I had in mind. Kind of demotivated, I accidentally got to read this article , and while some of the exhibits were looking weirdly at least, others seemed quite nice. Among them, COTIC was the one explaining best why steel is real when talking modern bike frame design. It was also the least boutique-brand of them all when talking money. The price they asked for a bike was in a similar ballpark with the big online retailers. And, very important, the more I looked at the FlareMax, the more I got lured into its "je-ne-sais-quoi". The combination of the classical, thin Reynolds tubes, and the modern longshot geometry silhouette was pleasing to the eye. (Still is, even after months of using and abusing it).
Of course, getting a reply to my email message in less than 15 minutes was a big plus – and from Cy, the man himself! Later on, the COTIC team was friendly, eager to help, prompt in replying to various questions that arose in the process of ordering, delivering, and assembling the custom FlareMax I was building.
I was also happy to support a small company, where a few individuals are turning their passion into a profession – pretty much exactly what we do at mtbtours.ro.
Being some kind of bike builder myself, and planning to re-use some of the components on my old bike, I opted for a frame-kit that included the budget X Fusion rear shock – on the account of this being my first full suspension bike, i.e. me not being able to tell the difference between various degrees of plushness and responsiveness anyway. I was probably right, as for the first few months I was definitely riding the FlareMax like I was still on my 29er carbon hard-tail with XC race geometry: carefully picking the easiest, safest lines among the trail obstacles, rather than smashing rocks and roots and leaving the dirty job for the rear suspension.
Fork-wise I went for a Fox Rhythm 34 120mm, a rather light option both on the scale and the price tag, and easily upgradable to a 140mm travel if needed. Double pistons Shimano XT brakes and 11 speed drivetrain (on offer now with the new 12 speed generation hitting the shelves), oval ring from AbsoluteBlack, HUNT XC wheels provided by COTIC, Maxxis Aggressor 2.3 tyres in tubeless setup, Brand X dropper post. Did I mention that I am a "budget oriented" bike builder?
Well, finally getting to the point (sorry for keeping you waiting, and thanks for bearing with me and reading all this text so far): how did the COTIC FlareMax fare?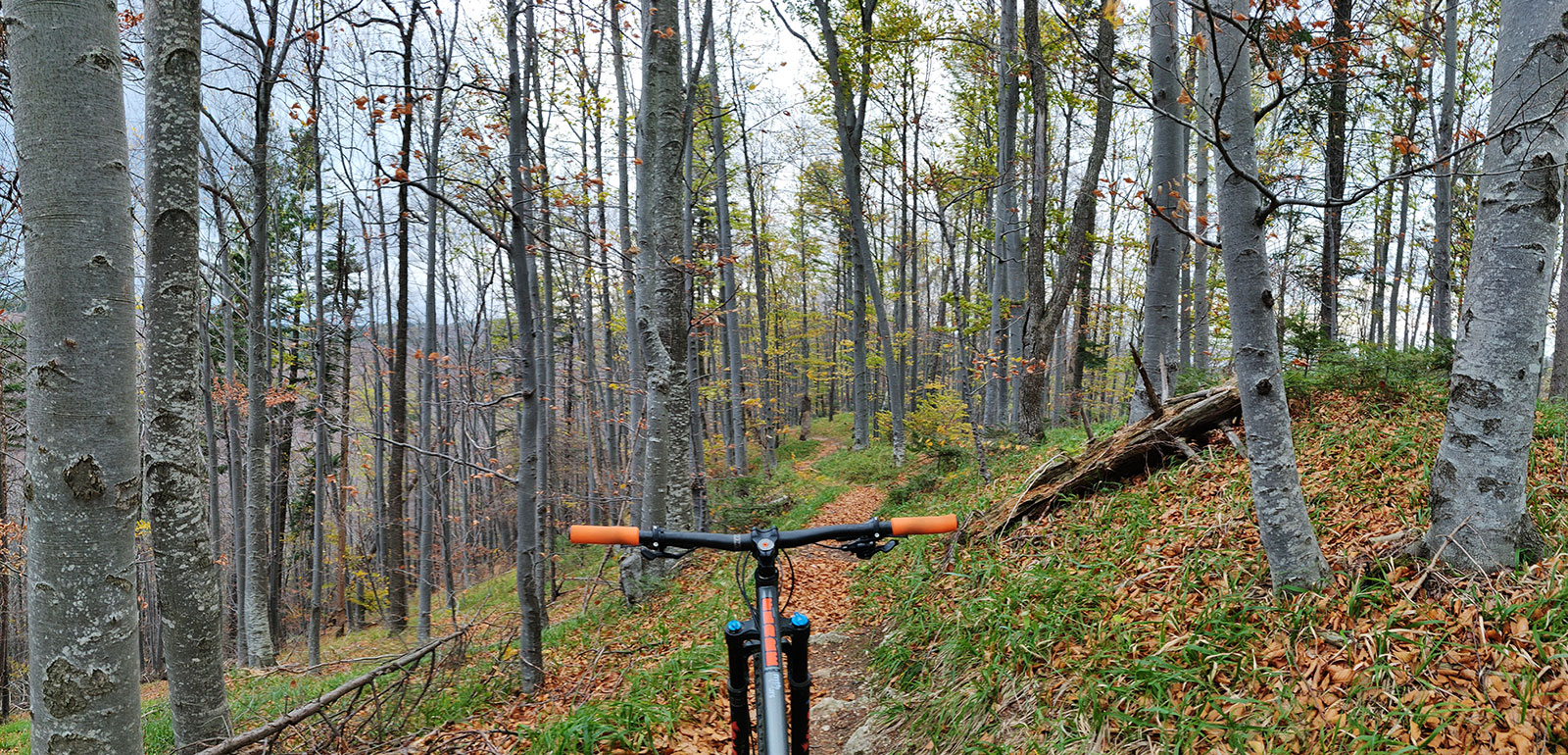 In short, I am a happy FlareMax owner. The bike definitely can do (much) more than I dare to, especially on the downhill side of things. But it is a really incredible performer on the uphills. I thought the weight penalty (a little over 13 kilos, about two more than my previous hard tail rig) will be a drag on the climbs, but it was more than compensated by the extra grip and traction provided by the rear suspension, and the nice, planted position in – rather than on – the bike offered by the longshot geometry. Sure, I am not riding much on flat, evenly surfaced forestry roads, where a hardtail or a CX bike would definitely be more efficient. I am talking about technical climbs, something we have in abundance in our neck of the woods.
The X-fusion O2 Pro rear suspension has four levels of compression adjustments and in the beginning I was being a good student, consciously changing the settings in accordance with the situation. Locked for transfers on roads, and opening it more and more, depending on the situation. After a while I got lazy and gave it up. The shock stayed about 90% of the time on open mode, as I didn't really feel it as a problem for pedalling. Towards the end of the season I started to pay a little more attention to the matter and I think it is helpful to lock the suspension when climbing, mainly because it raises a little bit the bottom bracket and it allows for a higher clearance over obstacles. But still, the FlareMax is an unbelievable climber even with the shock on open mode. A proper use of the SPDs can prevent most of the full-suspension pedalling issues, but I suspect the design of the frame helps also. It's something called droplink and you can read all about it here.
Other reviewers said that the steel tubes give the FlareMax the feel of a longer suspension bike, not just 120 mm. Can't confirm (or contradict) this statement, as I didn't ride a longer suspension bike. But there is definitely something here, and I think the best way to describe it is to make an analogy with skiing. You want your skis to have a combination of rigidity and flex in order to absorb shocks but also keep the skis planted on a carved turn. On a carbon or aluminium bike the "flex" is provided mainly by the suspensions and the tyres (the beefier, the smoother), and not so much by the frame itself. The steel construction provides precisely that: a specific amount of lateral flex in between the wheels, that allows the bike to stay nicely planted on the outline of a curve. Of course it is much more complicated than this, as you want this flex to be limited, and you don't want it to act like a spring. But there's were COTIC's magics come into place.
The end result is a bike that likes to be navigated, so to speak. It's always about flow when mountain biking, and it feels like the FlareMax has some special abilities in carrying the momentum the rider is able to create, allowing a smooth, buttery ride without much effort.
The longhsot geometry definitely has its role here, also. Longer, lower, slacker. A shorter stem makes the handlebar more responsive. A lower centre of mass keeps you more in the bike rather than on the bike, with obvious benefits both for descending and climbing. A longer wheelbase makes the whole ensemble more forgiving with positioning on the bike. You can afford to get caught sometimes a little too much on the front wheel, or too much in the back, without suffering dramatic consequences. Sure, the theoretical minimum turning radius is affected, you won't be able to make as short hairpin turns as with a shorter bike, but here's the thing. That minimum turning radius is very theoretical with shorter bikes, as you need the precision of a neurosurgeon in positioning your own body weight. Stay a fraction too much in the front, and you are out. Too much in the back, finito. A longer bike, while allowing for a bigger minimum radius, will actually make this minimum more likely to be achieved, because placing your weight on the sweet spot doesn't require so much precision. So, in real terms, for mere mortals like myself: I haven't met a hairpin I was able to navigate with my previous bike that I am not able to solve with the FlareMax.
I haven't had many crashes riding the FlareMax. I am a rather cautious mountain biker, quite conservative in taking risks (I know, it also means a less steep learning curve). But now and then crashes happen, and with my old carbon frame I did get a few side shocks that made me wonder if the thing survived. In that regard, the steel make of the FlareMax is an evolutionary step forward. I didn't add any frame protection coating, so there are plenty of wear signs on the Reynolds tubes. Rocks, sticks, branches, you name them, they all had their ways with the frame, some left their mark, but the ship kept on sailing. It still does. If you worry about second hand value, use some frame protection. My FlareMax will not leave my garage, it will stay with the family, and the scars on the frame will be considered beauty marks :).
No moving parts of the frame look worn out after six months of intense riding in all weather situations. From torrential rain to sandy dryness, with the occasional snow and frost. There is an annoying creak I can't really locate, but it's more likely related to the transmission than the frame, with the SunRace CSMX8 EAZ cassette being the number one suspect. It will hopefully be solved during the winter maintenance clean-up. I think the spider keeping the biggest four sprockets together is just a little loose on the fixing rivets, and they make protesting sounds on intense pedalling. The noises disappear for a while after backpedalling a few degrees, then back on after some more pedalling.
With quick engagement hubs from Novatec, the HUNT XC Wide wheels hum like working bees when rolling on the trails. Maybe a little noisy, but you always pump up the volume when you like the music, aren't you? :). From the available line-up in the HUNT portfolio I went for the lightest option, thinking that a lower rotation mass will help the climbing. And as my previous wheels were about 22 mm wide, I thought that 25 mm would be enough of an upgrade. I am not an aggressive rider, and on the lower end of the M size, so not so much stress on the wheels. There was an incident that is worth mentioning, as it was rather strange. While charging down on a trickier section of my home trails, I lost grip on the front wheel. Trying to recover and avoid a nasty crash, I was skidding sideways and I heard the front tyre loosing pressure. Inspecting the wheel after stopping (fortunately no crash involved) I found out that one of the spokes literally came out of the rim bed, forcing the nut out through the whole. Weird, as you'd expect the spoke being the first to to give up when things go wrong. I wrote to HUNT explaining the situation, and they were quick in sending me a replacement rim with extra spokes. While waiting for it I improvised a fix, with an extra washer added on the inside to prevent the nut from coming out again. It worked, it still works, as I didn't have time to rebuild the wheel – something to do for the winter season. But hats off for HUNT's customer service.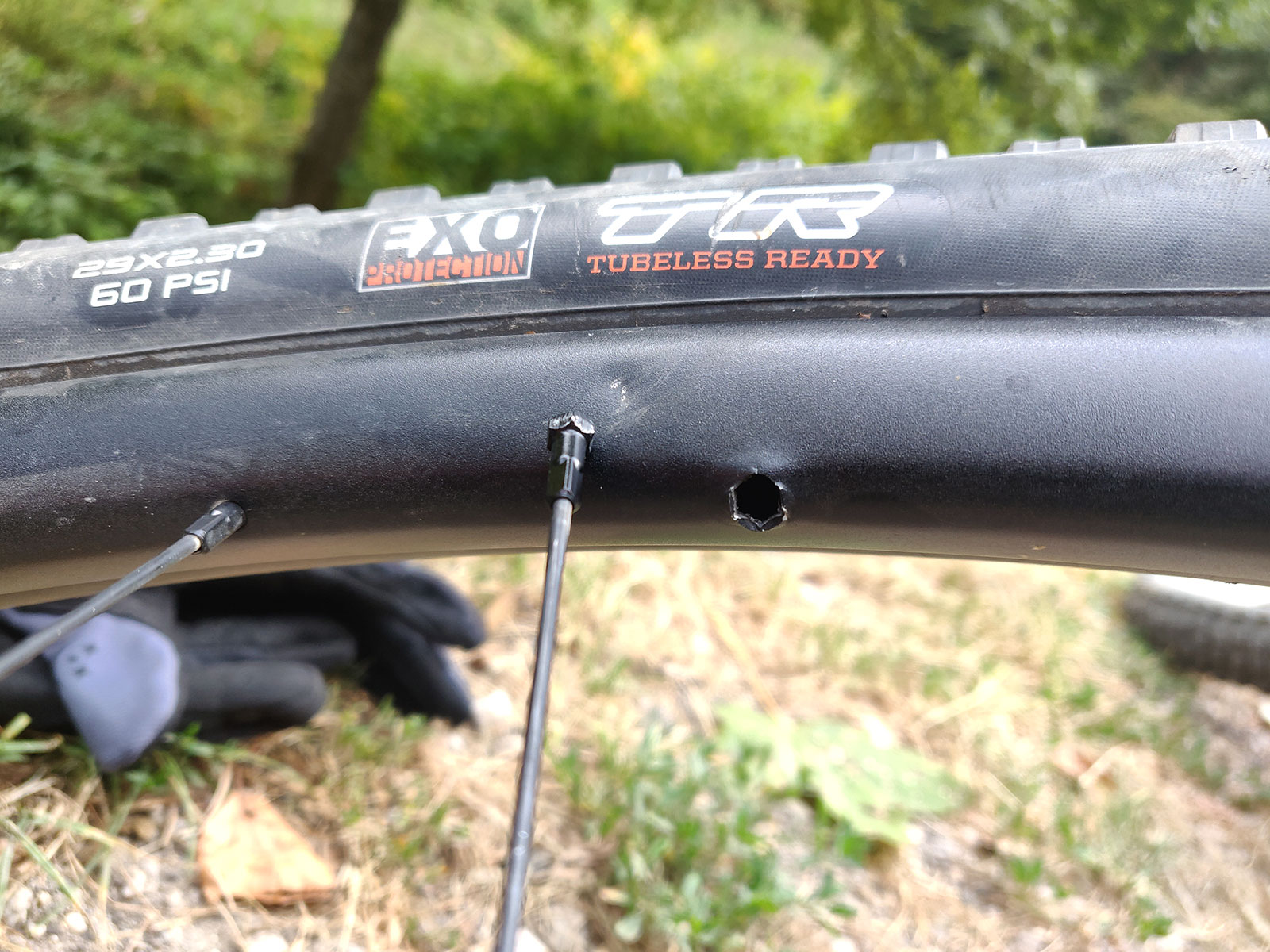 Complaints?
Well, the bike is heavier when pushing or carrying. And that's something we do on the types of trails we are riding. I also feel the extra kilos when I need to carry more momentum on technical uphill sections. There are instances when I wished a strong pedal kick would take me just a few centimetres further, over that odd obstacle, or up on that platform. The FlareMax is heavier, so it will get to a dead stop faster (than I wished, or I was accustomed to). Still getting slightly frustrated now and then because of that. It also is more difficult to hoist it up the rooftop carrier.
Could it be flashier looking? That's a tough one. :). There are more vivid colours available at COTIC, but I felt that a metal-looking hue would do better justice to a steel bike. It definitely is less protruding, more laid back, but so am I. There's plenty of colour in various fittings and kits anyway.
The brake and derailleur hoses are routed externally, and I would take more advantage of this feature when bleeding the brakes, for instance. But in reality getting the hoses fixing clamps off is just too finicky. There are a few rubber accessories that are meant to isolate hoses entry points in frame parts, but they are rather difficult to insert. Probably that's the idea, the easier you put them on, the faster they fly away while riding. But still, a nuisance.
The seat-dropper cable and hose are a tough cookie if you need to replace them. Fortunately the frame comes already fitted with what's needed for a cable actuated dropper post. I had to change it at some point and while it was tricky, it wasn't an insurmountable task. I did it without disassembling the suspension pivot.
Upgrades on the horizon?
The front fork will get a 140 mm travel during the maintenance servicing. The rear shock will also get a longer travel, and for that a new shock is needed. Maybe a DVO? A longer travel bike should be more confidence-inspiring for the small jumps I am practising (quite a big step for a biker who feels best when the tyres are planted to the ground), but it should also raise the bottom bracket a little bit, for better ground clearance. All that without a big weight penalty.
A Garbaruk transmission. I am happy with AbsoluteBlack oval rings, but Garbaruk is making some also and they would probably be a better match to the Garbaruk 11 cassette, with a better sprocket ratio than any other on the market. Also really light, albeit pricey.
Beefier tires. Maxxis Aggressor 2.3 did a good job, but the next ones, especially the front, will be a 2.4 minimum and a more aggressive profile.
Obviously, the part that needs more upgrades than most is my personal set of skills. Working on that is a daily routine, sometimes easier, sometimes harder. The COTIC FlareMax makes sure that a smile is always present. Yeah, some days you can't see it, but it is there, inside. 'Cause steel is real.