If the Romanian mountains are filled with sheep, rural Greece is the land of the goats. Both are generously equipped with equally noisy dogs, always angered by cyclists roaming around their premises. Their barking needs no Romanian (nor Greek) translation. However, this shouldn't prevent people from cycling into the wilderness, enjoying the nature, the sun, the sea, the air, the view.
We keep doing that in Greece, one week every late summer, for quite a while now. Be it in Thassos, in Kithera, in Lefkada or in Sithonia, the effort of carrying the bikes on the rooftop of the car had been totally worth the while. The idea of being able to lay abandoned in the sun, to swim in crystal clear waters after a nice workout on the mountain bike was always irresistible. Almost anywhere you stop on the Greek coast or on an island, you are both in the mountains and close to some amazing beach.
The most popular Greek destinations for Romanians who prefer traveling with their own cars are the Island of Thassos and the Chalkidiki peninsula. Start at sunrise at the Giurgiu custom point near the Danube and by sunset you might be savoring your first swim into the Aegean Sea, without needing WRC driving abilities or Stealth vehicles disguised as ordinary cars.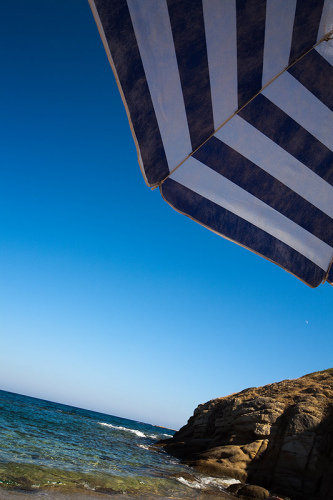 I plan to write more about Thassos Island on a different occasion, so let's focus on Chalkidki for the moment. When talking about nature, landscape, wilderness, Sithonia is in a totally different league than Kassandra. The latter is flatter, more populated, more crowded. Sithonia, however, comes with an overwhelming variety of beaches. Roam around Sithonia's coastline in Google Earth and see the Panoramio photos available – if Romania had half of what's on display there, we would considered Romania as the center of the universe (we kind of do that anyway, but let's not go there).

Sithonia's shoreline is only the beginning. Apart from the coastal highway, there is just pine forests and stinging bushes along huge areas of dry land where God only knows how the goats are able to survive. And dirt roads, a huge network of surprisingly well maintained dirt roads that seem to lead just nowhere. Many more than you'll find on any available map, and that is one big problem. If you plan to visit the area on bike – and you should plan that – than you definitely need to do your homework first. That is drawing the tracks in Google Earth, convert them to gpx and load them into a dedicated gps device (like Garmin, etc). The gps-able mobile phones will dry their batteries out before you know it and you'll get stuck at the first crossroads with maximum chances of getting lost. The very few locals you might meet along the route won't be very helpful, their English abilities being as poignant as our Romanian shepherds' mastering of Shakespeare's tongue.

We always chose to go in Greece in September. The daytime is shorter, but the number of usable hours is bigger than in the middle of the summer, when between 12.00PM and 16.00PM nothing ever happens. It's so hot than even going for a swim is a questionable prospect as, in order to get to the sea, one needs to traverse a burning sandy beach through some hot, oven-like air. In September, however, these hours are best for sunbathing and wallowing. We leave on bike in the morning and arrive at the finish line – some gorgeous and hopefully not so popular beach – around noon. That's where we meet the rest of the clan and in the evening we all return by car to our accommodation, because after a few hours of sweet sun and sea laziness it's a little too difficult to get back on the saddle.

Like anywhere on the Mediterranean Coast, the vegetation in Greece is a mass producer of thorns. You have minuscule chances to stay unpunctured, so don't forget some extra spare tubes and an over-sized patch kit. A more than generous reserve of water is also mandatory, but when talking about Greece, cycling and summer that's like stating the obvious.

A bike will give you the chance to discover a Greece that goes beyond the obvious tourist propaganda. A place with a wild, almost intimidating natural beauty, with small and quiet mountain villages, with hairy and careless goats, with wild almond and fig trees, with enchanting small gulfs with hot sand and turquoise waters, etc etc etc. So, if you ever pondered about getting your bike to Greece, don't hesitate anymore. Just go there and enjoy.